It's the weekend, and it's time to relax! Well, that's if you're not obliged to work through it. Even better, it's a great opportunity to spend some necessary me-time. In other words, practice some intentional social distancing and self-care.
Typically, when people hear the word "weekend", they automatically think of being outside. And there's nothing wrong with this because being outside is fun undoubtedly. But there's an underestimated serenity and mental boost that comes from staying in your house and enjoying your own company. How do you avoid getting bored doing this?
Drum rolls please! SOLO BINGE-WATCHING!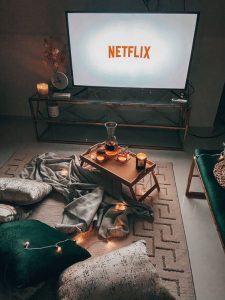 Binge-watching is simply the acting of streaming your favorite series or shows uninterruptedly. If you need some extra incentives to do it, grab your favorite snacks or refreshments and get cozied up in bed or your sitting room. Trust us, you'll love it.
Don't know what to watch? We've got you covered!
Check out 5 series/shows to binge-watch this weekend…
1. Flawesome – Showmax
 If you love wholesome, funny and inspiring friendship movies, then this is for you. Flawesome streaming on Showmax follows the lives of four audacious women navigating their careers, relationship and bond.
2. BBN Titans 
Reality shows are a weekend and weekday fave in Nigeria, Africa at large even. As a result of this, it's no surprise that the new Nigerian South-African Big Brother is hot and trending right now.
3. Far From Home 
If you've not seen Far From Home on Netflix or you've not heard of it, you're missing out on a lot. A lot of action, comedy, and romance too. Grab some popcorn and start tonight!
4. Ginny & Georgia
Topping Netflix's most watched series, Ginny & Georgia is a mother-daughter power flick to watch. Its second season dropped earlier this month and it has refused to leave the charts. It's just that good!
5. The Chats & Banter Show
There's nothing better than unwinding on a weekend with an interesting YouTube show. From conversations on love, sex and money to candid discussions on life experiences, the Chats and Banter show delivers premium entertainment. 
---
Read More…