From beautiful places to interesting people, Nigeria has a lot to offer. However, one thing that stands out effortlessly is the food. Whether you're a fan of hot and spicy delicacies or sweet dishes that feed the soul as much as your stomach, there's a lot of aromatic goodness in the country.
Although Jollof Rice is perhaps the most famous meal in Nigeria, there are a lot of cuisines to be acknowledged. There's a plethora of stews, soups, grains and swallows that are richly flavored, representing different tribes and ethnic groups. In fact, Nigerians are convinced that they have the best type of food on the continent. And undoubtedly, visitors are almost charmed by the tasty goodness to agree.
So if you're looking for some mouth-watering inspiration to tingle your appetite, we've got you!
Check out 5 delicious must-eat foods from Nigeria…
1. Amala, Ewedu & Gbegiri
Birthed from the Yoruba people in the Western part of Nigeria, Amala is a common favorite made from yam flour. It's accompanying soup 'Ewedu' is made from jute plants, blended into a fine delicacy and is often paired with assorted meat or chicken.
2. Nkwobi 
This eastern star belongs to Igbo tribe of Nigeria. It's a cow feet dish, also made from 'Ugba', an African oil beans seed. Garnished with crayfish, palm oil, chili pepper and other tasty seasonings, the sour dish is said to be a healthy one.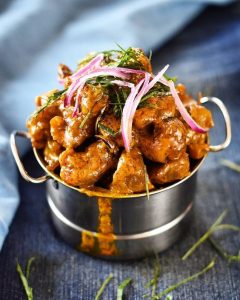 3. Banga Soup
Also known as 'Ofe Aku', Banga soup is one of the most sought-after meals in the country. Although the Niger-Delta food is made from similar ingredients as the dishes above, it also uniquely contains palm nuts and fruit concentrate.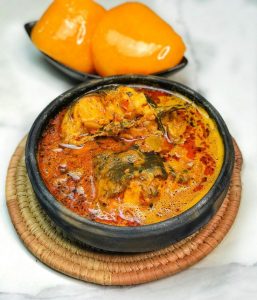 4. Tuwo Shinkafa
Tuwo Shinkafa was invented by the Hausa tribe of northern Nigeria. It is a soft rice-based swallow, mostly eaten with Miyan Kuka, a soup made with powdered baobab leaves and  spices. 
5. Jollof Rice
Of course we can't conclude our list without mentioning the one and only Jollof Rice! Yes, it's also popular in Senegal, The Gambia, Ghana, and Ivory Coast, but it's a cherished meal amongst citizens and tourists. From it's distinct red color gotten from tomato and pepper sauce to the goat meat, chicken or fish it's served with…it's always a hit! 
---
Read More