We're five days away from Independence day in Nigeria, and there's a lot to discuss. Without a doubt, the country has not evolved in the best ways as expected but there's still some good stuff to acknowledge. So in the spirit of positivity, we've decided to celebrate the people and things that give us hope.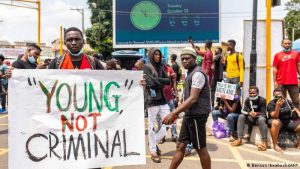 First off, the young people in Nigeria are at the top of our list. 70% of the country's population is under 30, with 42% under the age of 15. From their tenacity and audacity to their ability to spread their uniqueness at home and beyond, they deserve all their flowers.
What have they done or what are they doing to deserve their flowers in Nigeria?
1. Speaking Up
When it comes to leading the revolution for change, young people stay at the forefront of the action. Even more exciting, the social media era we currently live in continues to make this possible off and online. A prime example of this is how a sense of unity online drove a sense of community offline with the #EndSars movement in October 2020. The protest then and continuous vocalization to put a stop to police brutality by the Special Anti Robbery Squad was led and executed by young people.
2. They are Pacesetters
One thing about young Nigerians is that they are as hardworking as they are youthful. Yes, unfortunate events like the ongoing ASUU strike can seriously affect employability for them, but trust that they'll overcome it. There's a long list of opportunities in different fields around the world, and there's no way they'll allow the repulsive state of things to hold them back. Young Nigerians are highly skilled, innovative and entrepreneurial. There's no stopping them…even if they have to JAPA.
3. Being Progressive
This one right here is a necessity in Nigeria. Not only for us to move forward as a country, but to implement change when it comes to human rights. The leadership train on this side of the world is filled with old heads, but young people are making sure people feel heard and seen. From the amazing Feminist Coalition which continues to promote equality and justice as they did during the #EndSars movement by raising almost $200,000 to fund protests, to the vocalization of queer rights by members and allies of the community, a lot of oppressive rules are being demolished.
4. Making an Impact
Ever heard of 'Chess in Slums'? Well, a remarkable young Nigerian named Tunde Onakoya is behind it. Since 2018, the founder of the group has been giving out scholarships to its active members who are majorly children in extreme poverty areas like Makoko, so that they can stay in school and potentially have a higher education. Inadequate access to education is something the government is well aware of but not doing enough about, but with initiatives like Tunde's, there's a glimmer of hope that more people will get involved or build similar programs.
5. Leading Key Sectors
Whether it's Tech, business or entertainment, you'd find young Nigerians making great strides in key sectors. Some of the biggest companies contributing to the country's functionality at the moment are Young Nigerians. They are constantly providing solutions and creating employment opportunities for the coming generations.
As Nigeria is about to celebrate its 62nd Independence, know that it has come a long way but is going in a better direction because of its Youths.