The city of Lagos is vibrant, rich in culture and hustle bound on every corner. However, it's also a fun place to be and exist, even in the middle of its often chaotic nature. Whether you're an introvert looking for reposeful activities or an extrovert in search of adrenaline-induced scenes, there's something for everyone.
In other words, Lagos is as versatile as it's exciting. From food, music and art to day trips and tours, some local wanderlust awaits you. There are a lot of well established things to do if you want to soak into your desires or push yourself out of your comfort zone. This might sound cliché, but listen to the city and it'll speak to you!
So if you need some guidance, we've got you covered.
Check out 6 things to do for fun in Lagos based on your personality…
Introverts 
1. Art Galleries
What's better than glaring lustfully at beautiful and meaningful pieces of art? Nothing, if you hate crowded and noisy spaces. Thankfully, Lagos houses a plethora art galleries filled with works from indigenous and foreign artists. Try Nike Art, Omenka or Red Door Art Gallery. 
2. Go Au Naturel
Do you love taking serene walks that are calming and introspective? Then a top spot to check out is the Lekki Conservation Centre. Asides housing Africa's longest canopy walkway, it has a track of wetlands set aside for wildlife viewing.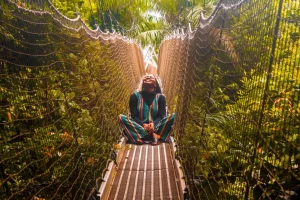 3. Vibe At The Beach
Beaches dey dis world men! We're joking, ignore us. But seriously, Lagos has a lot of private and public beaches. Not only can you soak up some much needed vitamin d, you can also watch the waves therapeutically and have some sea food. Try Landmark, Tarkwa Bay or Elegushi beach.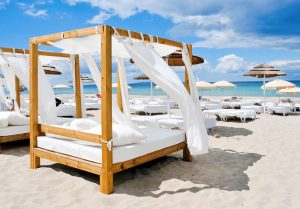 Extroverts
4. Sip & Paint
When it comes to art, Lagos doesn't fail to deliver. And if you're a social butterfly or wine enthusiast then the city's thriving sip and paint community is calling your name. Try Sip and Paint Ng. at the metaphor or Art Fusion Ng.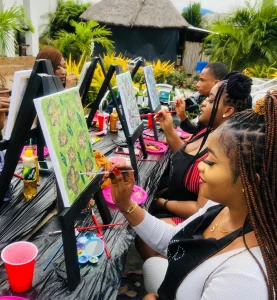 5. Karaoke 
Firstly, you get to belt out your favorite songs with friends and strangers, then you get to eat good food. Is there anything more spontaneous or invigorating? Yes, but you should still take a swing at Karaoke in Lagos.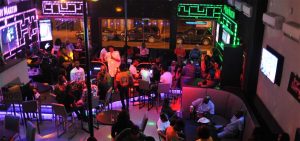 6. Go to the Club
Loud music, bottomless alcohol and attractively zesty people. These can be found in a Lagos club and electrifyingly, there's a long list of them to choose from. For example, Quilox, 57, and Club DNA a re popular hot spots.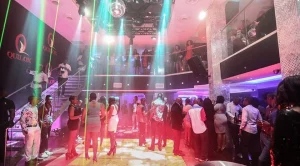 ---
Read More..