Nigeria we hail thee, kind of! We're just joking, ignore us. The country's 62nd independence day is 4 days away and today, we're acknowledging its natural wonders. Nature has a way of standing out with beauty, even in the middle of Africa's most populous country.
In other words, Nigeria is a big country with over 200 ethnic groups. As such, exploration reveals undiscovered scenes. From waterfalls and historical buildings to captivating coastlines, exciting adventures can be had. Even more interesting, these landmarks in the heartbeat of the continent represent unique stories of people and cultures, showcasing told and untold history.
So get ready for a quick mental trip cause we've got a list for you.
Check out 5 Remarkable Natural Spots in Nigeria…
1. Zuma Rock, Abuja – Kaduna Expressway, Madala, Niger State
Standing at 725 meters, this grand monolith has a unique shape and lucid natural color. As a result of its uniqueness, it can be found on the ₦100 bill. Additionally, it's popularly known for its human face illusion, giving it some personality with viewers.
2. Wikki Warm Spring – Yankari National Park in Bauchi State
With a natural warm spring, this hot spot in Nigeria is perfect for a mini getaway. Not only is it 1.9 meters deep and 13 meters wide, but it also has a constant temperature of 31°C. Warm gushing water and a blue ocean aesthetic…what else could you want for some relaxation?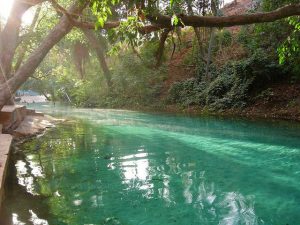 3. Ado-Awaye Suspended Lake, Oyo
As one of the only two suspended lakes in the world, this natural wonder is situated about 20km west of Iseyin. Also referred to as the "sleeping lion", its formation, teeming biodiversity and serene surroundings gives it a picturesque view.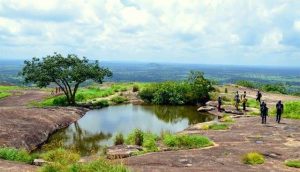 4. The Obudu Holy Mountain, Cross River State
Notorious for its dramatic panorama, the exotic Obudu plateau towers over 5200 feet above sea level with a climate of 15C and 23C. It is regarded as one of the most beautiful places on earth.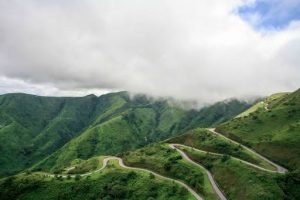 5. Ogbunike Cave, Anambra
Lastly, the Ogbunike Cave in Nigeria is located in a valley surrounded by a tropical rain forest. With rich fauna and flora, it has been used for centuries by locals as a place of spiritual upliftment. Furthermore, it houses a colony of bats, ten tunnels, streams and a lovely waterfall.
---
Read More