Nigeria as a country, is one that tells the history of power, people and perception. And one of the many ways it does this till date is through its buildings. As unstable and unexciting as the country may be sometimes, it houses some architectural works of art that make you feel a sense of something beyond what is seen.
In other words, there are stunning cultural landmarks in Nigeria that make you do a double-take. From financial institutions and libraries to theatres and event halls, a lot of admiration opportunities for citizens and tourists exist.
So adding to our list of remarkable things about the country as we count down to its 62nd independence day, we're showcasing architectural bliss.
Check out 5 beautiful buildings in Nigeria…
1.  Akwa Ibom Stadium – Uyo
Built in 2014, this 30,000 seater sport complex is a captivating sight. It's white outer cladding and illumination makes it stand out with easy, giving Uyo a quality landmark status globally. With features like digital playback screens and score boards to impeccable floodlights and efficient emergency exits, it's one to rave about.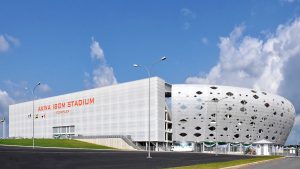 2. National Theatre – Lagos
Located in Surulere, Lagos, the National Theatre is popularly known as the main spot for performing arts in Nigeria. Completed in 1976 in preparation for the Festival of Arts and Culture in 1977,  it has an outstanding hat-like outline. Even more exciting, it has maintained a friendly environment over the years. For example, its lakes and vegetations continue to be preserved.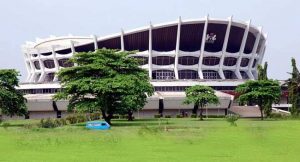 3. Central Bank Headquarters – Abuja
When it comes to the banking industry, the CBN headquarters in Abuja is an architectural star. Firstly, it was built to relay a tone of superiority in the central business area of the state. Additionally, it offers world-class facilities and powerful security infrastructures.
4. Kajuru Castle – Kaduna 
If there's one thing that compliments beauty, it's luxury. As a result, the Kajuru Castle in southern Nigeria is a showstopper with its medieval structure. It's regarded as a luxury villa and getaway location on the mountain top of Kajuru Village in Kaduna state. 
5. Civic Centre – Lagos
Situated in the heart of Victoria Island, Lagos, Civic Centre is an architectural charmer. It's romantic view at night from neighboring bridges and landmarks makes it picture perfect, as it's often seen on social media.
---
Read More