If there's one thing Nigerians can collectively agree on, it's that Tems is a powerhouse. From the days of exhilarating singles like Mr Rebel and Try Me to the sonic "If Orange Was A Place" album, the superstar has maintained her streak. Even more convincing her latest win at the BET Awards 2022 for Best International act proves it.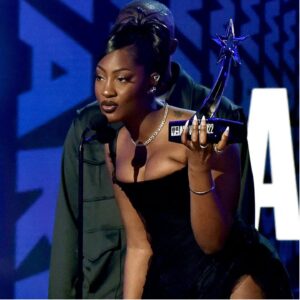 Not only are her songwriting skills unique, but Tems' superpower lies in relatability. Whether it's heartbreak or a journey of self-discovery, she draws you in with a sense of endearment and encouragement. In other words, the Afro-fusion artiste is phenomenal at what she does!
Yes, Wizkid's Essence was probably the biggest hit of Summer 20'/21′, and having Tems on it skyrocketed her further into fame. However, this songbird has always had a place in the spotlight with her authenticity and alternative sound.
Why is she a pioneer?
To top it off, she is an artiste defying the conservative odds set for Nigerian women and young creatives in general. As such, it's no surprise that her music connotes a certain level of confidence and audacity. Simply put, it's dares you to be yourself in a world and more specifically a country like Nigeria. A country she knows too well and has hopes for.
In a 2020 interview with British Vogue, Tems described her music and its fluidity with Nigeria. She said, "My music is here to serve as part of the healing force. To calm the noise made by all these external forces nagging at everyone – the frustration, the hardship, the mental issues. Trust me, the suffering is much".
So trust us, an artiste as passionate as this is set to make a mark and lead the path for similar or even stronger forces. The question is, are you on board? Because facts are the movement is happening with or without you.