The city of Lagos never fails when it comes to enjoyment. In other words, there's a plethora of activities that are as fun as they're memorable to partake in. Even more interesting, if you're someone that loves having an unforgettable rendezvous with friends, you'd never be bored.
As a cosmopolitan hub, Lagos is forever thrusting with adventures. All you need to do is decide what you're in the mood for, what your budget is and who you want by your side. From hot food spots and adrenaline filled pursuits to nightlife musings, there's something for everyone.
So if you're looking for something fun to do this weekend, we've got you covered…
Check out 5 exciting stuff to do in Lagos with your friends…
1. Break a sweat
If you and your friends love being active, then Upbeat Center is a Lagos must-visit. It's West-Africa's first trampoline park with a range of in-door fitness activities. From sporting and fitness classes to game zones, it's a flexible space.
2. Go all out at a buffet
Lagos and food have a beautiful relationship, and you can tell from mouth-watering social media posts. Whether you and your friends love intimate spaces where you can wine and dine or lively flavorful spots, try buffets. For example, Radisson Blu hotel has an awesome setting for good food, luxury and laughter. And for a more wholesome speed, Cactus Restaurant works perfectly.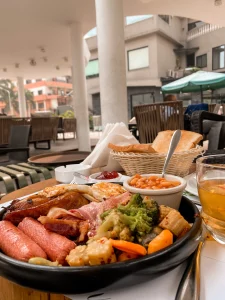 3. Soak up some sun at the beach
From Tarkwa Bay and Wave Beach to Jara Beach Resort, there are a lot of water friendly spots in Lagos to spend time with your friends. Think of it, what's better than the therapeutic feel of the beach combined with your best buds? These spots also have amazing food and picture-perfect aesthetics that'll capture the memories you'd make.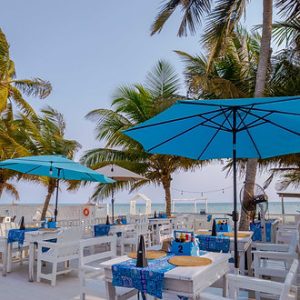 4. Sip and paint
Are you and your friends in the mood to create some art instead of looking at them at galleries? Then a sip and paint will tend to your Picasso dreams. Thankfully, places like the Metaphor in Vi and Art Fusion Ng offer creative sessions to fuel them.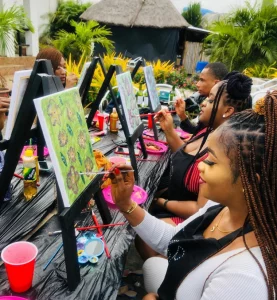 5. Experience some nightlife magic
Lagos nightlife has a certain allure that can only be understood when you're a part of it. It's a great way to unwind with good music, alcohol and interesting people.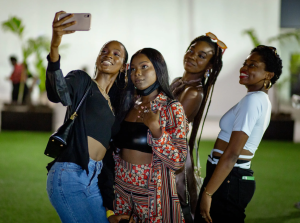 ---
Read Similar Posts…